Here Are The Benefits Of A Work From Home Business
So you are considering starting a work from home business but you may still be sitting on the fence on whether to or not.
This could be for a variety of reasons but here I would like to give you the benefits of having a work from home business to hopefully make that decision a little bit easier for you.
No Commute – The rush hour (Oh Joy). Do you really like to get stuck in traffic jams, travelling on crowded trains and buses & do you like getting up at the crack of dawn to endure what I have just mentioned.
Also you work hard all day just to go through it all again when you are tired and hungry & just want to get home a.s.a.p.
So what you could do is leave all that behind you. Imagine waking up stress free, you go downstairs and put the kettle on. You then turn on your computer and bingo you are at work. Sound good? You decide A or B?
Low Costs – Times are changing as you don't need premises on the high street anymore and all the overheads that go with it. Rent, business rates, insurances and in a lot of cases of having a home business you don't need inventory which is dead money until you sell it.
For a home business you need an internet connection and a computer, which for a majority of households nowadays already have them so if you are in that position then you are good to go already.
As regard to inventory you can offer digital products such as PDF's, E-books, videos, audios and powerpoint presentations. These are created once and are available for download and viewing on an unlimited basis.
You can sell products as an affiliate which means selling other peoples products which has no cost incurred to you what so ever.
You can sell physical products in your own brand which does incur costs in regard to production but you can use fulfilment houses to stock, package and ship to your customers. This means your living room will not be full of boxes.
Flexibility – This can be looked at in 2 ways. The first is in regard to time management. Meaning you set the hours that you want to work. This can be in a block or spread out over the day.
This is great because you can work around your family, the daily routine of shool runs, doctors and dentists appointments. Also you can take a 2 hour lunch break if you want to meet friends for lunch.
Also if you are like me you can enjoy your hobbies during the week. I like the odd game of golf and I play during the week because I can.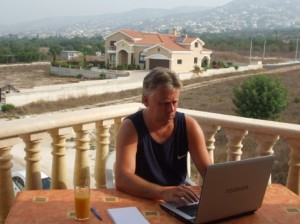 The other way where a home business is flexible is this. If your business is like mine and solely internet based you can run it from anywhere in the world.
I have a property abroad and I can work from my balcony, t-shirt, shorts and flip flops. My business is on my computer. When I get off the plane and get to my apartment  I open up my computer and my business is there and ready for me to go to work.
No geographical restrictions and a global marketplace for me to reach at a click of a mouse.
Earn While You Are Unwell – Now you may be wondering what I mean by this. Now if you have read my story in the "About Me" tab you will also know that I have a traditional service business in the cleaning industry.
Now I have had a few health issues over the last few months in particular heart problems. This severely restricted me in my cleaning business as I was unable to climb ladders and do hard physical work. Basically I was running on around 60% capacity.
At the same time my online business which involves affiliate marketing, home business consultation and E-Commerce carried on as nothing had changed.
So by having a business like this you will still be able to earn a living even if you are under the weather. You won't have to worry about taking time off as you would in a proper job.
I was able to work on the computer just a day after coming out of hospital.
If you would like to find out more information on what are opportunities are available to you or to find out more about the business models I operate then please feel free to Contact Me Here.
So there are the benefits of a work from home business. Some of them are personal to myself but you may be able to relate to them in some way.
As always I wish you well.

Pete Harris
Digital Marketer & Home Business Consultant
Six Figure Mentors Elite Member