If You Are Looking For Top Web Hosting Sites Then Check These Out
So if you are looking to launch your own website then you probably want to know who the top web hosting sites are.
Now when looking for the top web hosting sites there are a few factors to consider. Do the providers offer extensive hosting packages, do they offer site building tools, can you buy domains through them, how much disk space can you have, can you host unlimited domains names on their servers?
The list goes on and on and quite frankly can be very confusing. They are all saying that they give the best service, so which one should you believe?
Now you are probably like me and visit comparison sites when you are looking for a product and service online. You get fed all this information but do these sites actually use the service? Do they know what they are talking about?
So when I give advice on what products or services to use I do that through actual recommendation. In other words I would not recommend anything that I have not used or are using at the time.
So in this post on top web hosting sites I am going to just mention two! That's right just two. These are the only sites that I use. Now you may think that is not giving a fair comparison, I disagree. I am not going to just go and get a load of information of the internet, rehash it just for the sake of it like many people do.
No I am going to give you an honest review of what I use. I think that is only fair. So lets get on with it.
My Top Web Hosting Sites
Hostgator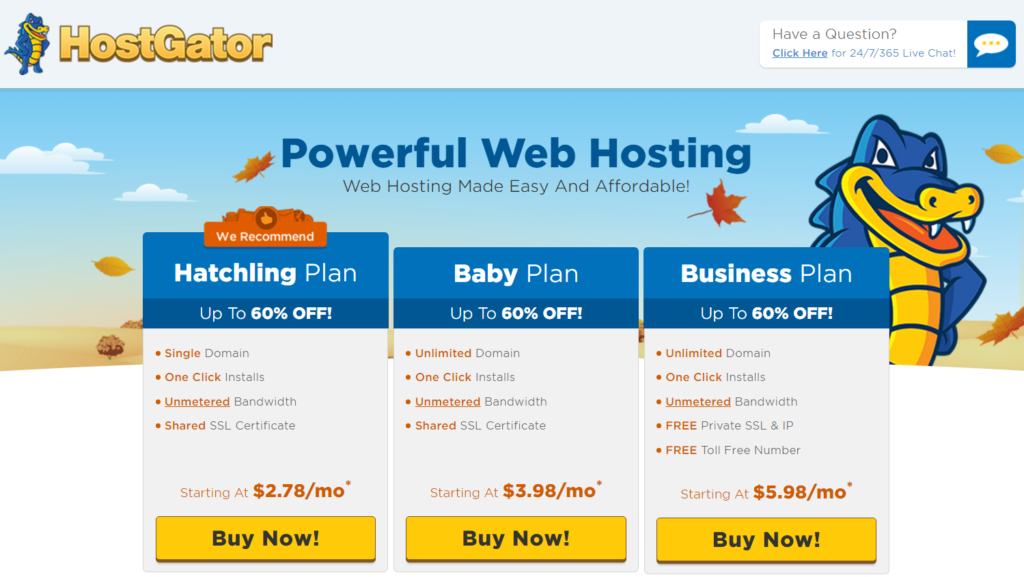 They offer powerful web hosting that is easy and affordable. They offer many tools including site building tools and one click script installers.Here are some of the key features of Hostgator.
Prices start from $2.78 per month.
Unlimited disk space and bandwidth.
Free website builder with 4500 templates.
Easy to use control panel (C-Panel)
Unlimited email addresses.
All year round support.
The C-Panel is where you control everything that is going on with your site. Here you can launch you website through the website builder options. You create you email accounts, install script such as WordPress with one click.
Also you have detailed analysis of your websites performance. How many visitors you are getting daily, weekly or monthly. How many of your pages are being viewed and for how long. There is so much more that you can do and one blog post is nowhere near long enough. I have included a snap shot of my own C-Panel to give you some idea.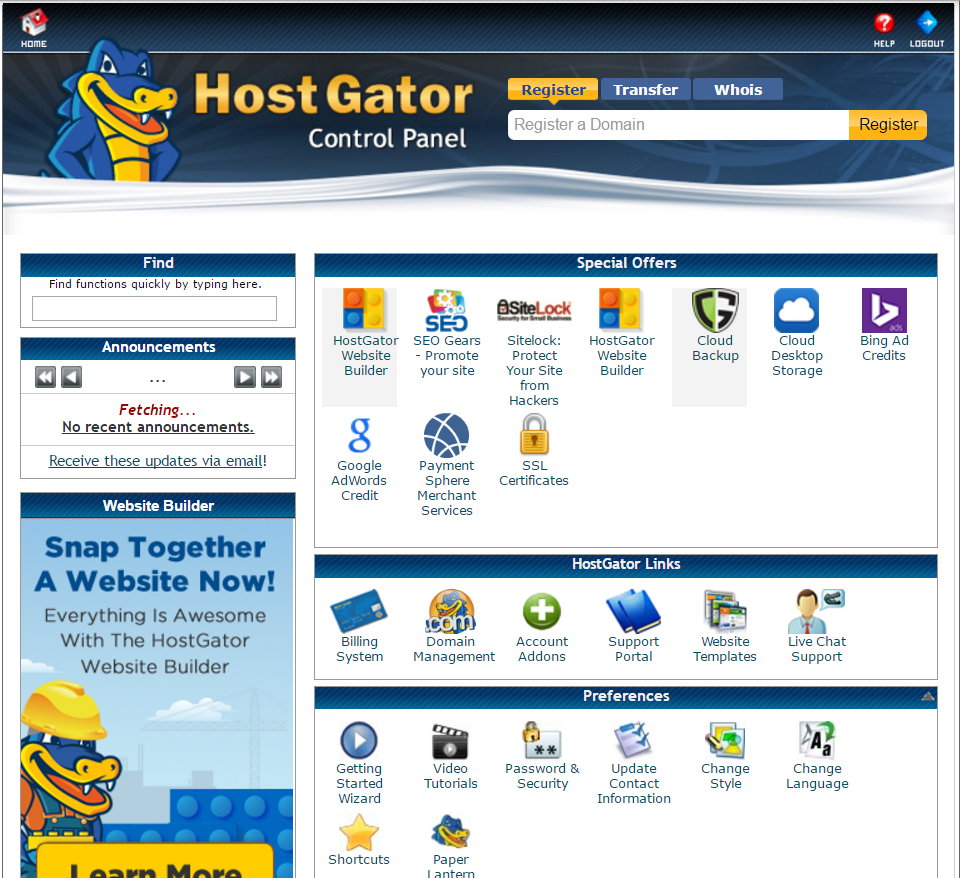 I have been with Hostgator now for around 4 years now. Only a handful of times in that time have I had any issues with any of my websites. Every time I have gone onto their support through live chat and the issue has been sorted out there and then.
A fantastic service and I thoroughly recommend them.
Digital Business Lounge
Digital Business Lounge is a premier internet marketing suite of tools. It is much more than just a web hosting service.
It is designed to be a compete platform for running an online business from. It cover everything.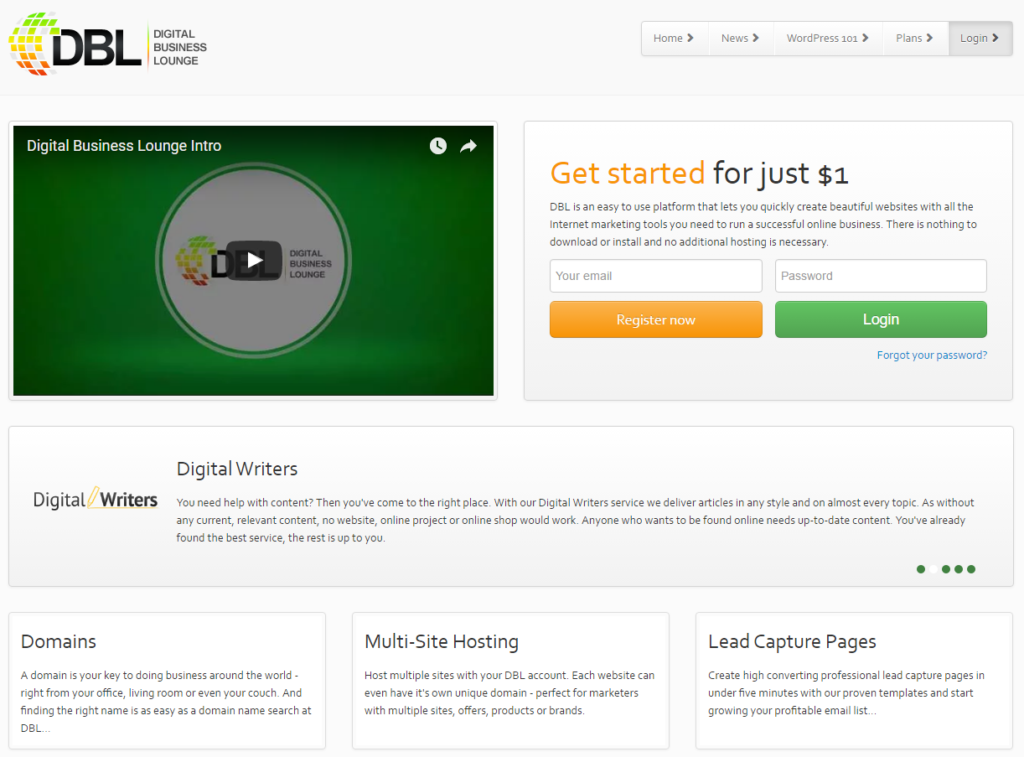 Here are the key features to the Digital Business Lounge
Buy your domain name through the Digital Business Lounge
Multi-site hosting all with their own custom domain name.
Simple Lead Capture – Build Lead Capture pages with simple and intuitive software.
WordPress website builder.
WordPress tutorial course.
WordPress themes.
WordPress plugins.
Tracking software – Track the performance of your marketing campaigns.
Graphix Creator – Software to create stunning 3D graphics for all your marketing material.
Tidy URL Custom – Clean up ugly affiliate links and host them on your own domain.
YourTube Player – A simple video customization tool.
Digital Writers – Get professional copy written for you.
Smart Media Library – Host all your graphics, PDF's and other files.
Create your legal pages.
Here is a screenshot of my Digital Business Lounge dashboard.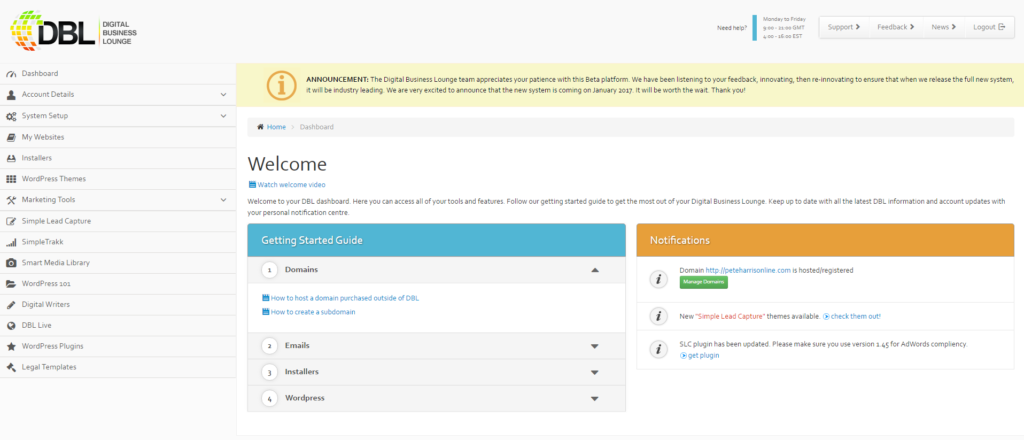 Digital Business Lounge is the premier online marketing suite of tools. The support is second to none, the functionality of the service is everything that any online business owner will ever need.
You can run you entire online business empire through Digital Business Lounge and that is why I recommend it.
So those are my recommendations for the
top web hosting sites
. The first one is ideal if you just want to get your first basic website up and running. The second is for anybody who is looking to make internet marketing a full time career, it does everything for you.
To your success.

Pete Harris
Digital Marketer & Home Business Coach
Six Figure Mentors Elite Member