Six Figure Mentors Momentum Day – London 23rd July 2016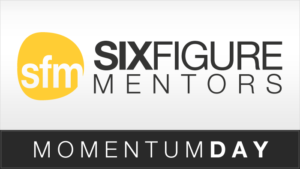 So the latest Six Figure Mentors momentum day has just taken place at the Renaissance London Heathrow Hotel on Saturday 23rd July 2016.
You may have heard of the Six Figure Mentors but you maybe unclear as to just what a Six Figure Mentors momentum day is all about.
It is when a group of leaders come together in one room to brainstorm, mastermind and network together as well as to be inspired and motivated by the co-founder Stuart Ross, Kay Kubassek and their entire team.
At the end of it you will leave with the momentum to take your Six Figure Mentors business to the next level. The momentum is achieved by all the training, mentoring, mindset training and strategies that are shared throughout the day.
This Six Figure Mentors momentum day was a little different for me than the previous ones that I had attended. For me it was more like a momentum weekend.
Previously I had driven from my home in Norfolk, attended the event and then driven back home that evening. This time it started on Friday 22nd July 2016 at Paphos airport in Cyprus.
I have recently moved to Cyprus full time and in doing that it has enabled me to be a full time online marketer.
So that Friday myself and a good friend of mine Mark Ford arrived at Paphos airport ready to board a plane to London Stansted.
A totally new experience for me as I had never flown anywhere on business. So we arrived at London Stansted and drove down to the Renaissance London Heathrow Hotel to stay the night before the event. Another new experience.
It was great because it enabled me to network with other Six Figure Mentors members at the bar and create new relationships. Also I had the privilege to be invited onto Jay Kubassek's table where I also met some of the super affiliates of the company.
This was a fantastic experience as these highly successful people were interested in me and my life and made me feel so welcome. I will be eternally grateful to them for that. Around 1pm it was time to lay my head down and look forward to the day ahead.
So it is Saturday morning, the sun is coming up and I look out of my hotel window. London Heathrow is alive and I am mesmerised with the amount of planes taking off and landing while having a coffee in my room which which has a view of the runway.
The dining room is a hive of activity. Fellow Six Figure Mentors members are there like me having breakfast and looking forward to the day ahead.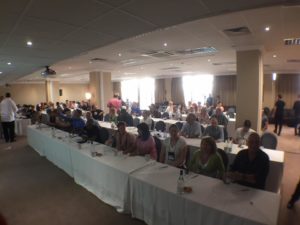 8.30am arrives and the buzz is palpable. Well over 100 Six Figure Mentors members are meeting and greeting each other. New friendships are being formed.
The doors to the conference room open at 9.00am. Stuart Ross, Jay Kubassak and their team are there to meet everybody. The music is pumping everybody up an we take to our seats.
Alex Eastman opens up the proceedings and shares what has happened over the last 3 days with the DEA Platinum Incubator training event.
Jay Kubassek then takes over and shares his and Stuart's vision of where they want to take the company and reiterates just what his mission in life is. You can feel the energy levels rise over the hour he is on stage.
After the morning break Stuart comes to the stage and shares information on the exciting updates that the company are planning. Things like enhanced features to the business system and the extra income potential that we can all benefit from.
Lunch time comes and everybody in the room agrees to shorten the lunch break so we can get cracking with the afternoon session.
Stuart then starts the afternoon and then passes the baton over to Justin Wolf.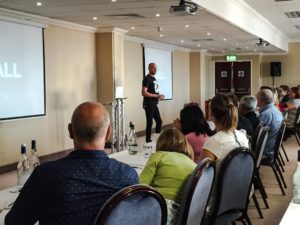 An hour an half of motivation and mindset training. Telling you exactly what you need to do to succeed not only in your Six Figure Mentors business but in life and online business.
Then it is the ladies turn. Amy Taylor takes to the stage to share her story and is joined by Jill Humphries, Chris Idle and Fiona Scott.
Inspirational strories are told by all of the ladies. Everybody can relate to what they are saying in the way of personal tragedy, and life events that they have overcome. It gives you the motivation to overcome anything by having the right mindset.
Jay Kubassek then closes the day with another hour and half of high energy, high emotion mentoring. Challenging us to face our fears, to step over that line in the sand and become successful.
It is 7.00pm and the day has finished. It was supposed to finish at 5.30pm but in true Six Figure Mentors style they over deliver again.
I say my goodbyes and I am fortunate to shake Stuart & Jay's hand and thank them for the day.
A two and half hour drive back to Norfolk to stay with relatives is in front of me. All the way I am thinking about the day I have just had.
All the tips, strategies and tactics that I have been given to put into action. More important is the confidence, motivation and momentum that I have now gained to take the action needed.
So Would You Like Have The Six Figure Mentors Momentum Day Experience? 
If yes then the Six Figure Mentors are offering you a Free Trial to their business education. There is $350 of online business training in this fantastic bundle. If you like what you see you could then become a member and attend on e of these events.
To open your Free account all you have to do is click on the banner below.
So my
Six Figure Mentors momentum day
experience this time has been truly special. Travelling from Cyprus to a place full of leaders is something that I will never forget and I look forward to going again sometime soon.
To your success.

Pete Harris
Digital Marketer & Home Business Coach
Six Figure Mentors Elite Member.