If You Are On The Point Of Quitting Your Job To Start A Business Then What Is Stopping You?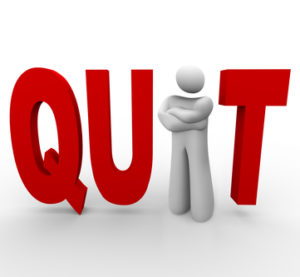 So is it safe to assume that by landing on this page you are on the verge or at least thinking about quitting your job to start a business.
Now having worked in the corporate world back in the late 1980's and early 1990's I realize that there could be many at right now.reasons why you find yourself at the point of quitting your job to start a business.
Now I don't know what your particular reason is. All I can do is tell of when I was at the point that you find yourself at.
It was early Spring 1990 and I was working at a printing company. I held a management position role within the company so I regularly had meetings with the managing director and various section managers.
I worked in the admin side of the business and was responsible for the sales office. I also had one on one contact with customers, some of which were major companies in the area we operated. Some of them were spending hundreds of thousands of pounds per year.
With the nature of this kind of business mistakes happened. At this time there were a lot of mistakes being made in the factory. This may have been a result of low morale in the company in general as it was in some financial trouble. The atmosphere was not good.
Anyway I was the point of contact for the customers. As a result of this I had to deal with the complaints. The phone seemed to ring non stop and I had to sort the problems out with the factory manager.
Now if the mistake was down to me then fair enough I would hold my hands up and take it on the chin.
The thing was that I was having to deal to deal with problems which had nothing to do with me. The factory manager was not doing his job right, basically he was an idiot. I had no respect for him because he did not know what he was doing.
Things had steadily got worse over a few weeks. I was getting stressed out, I was dreading work, smoking 60 cigarettes a day and not sleeping. The commute to work was painful as I knew what I had in store when I got there.
So I was sitting at my desk and the receptionist asked me to come down to see a customer. When I went through the door and saw who it was I immediately said to myself "not again".
The customer stood there with his order and for the third time it had been printed incorrectly. He was spitting feathers, angry and threatening to take his business elsewhere.
I stood there and absorbed his wrath. Eventually I managed to pacify him, apologized and said that I would get it sorted. I was pretty good at this point because I had had enough practice.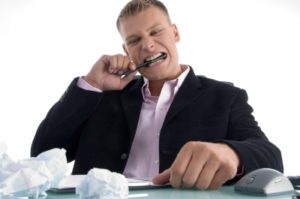 I went back up to my office and summoned the factory manager. He came up and I let rip. I used every expletive under the sun. I told him what I thought of him and told him to get it sorted.
He wanted to take the order away with him but I would not let him because I knew that I was going to speak to the managing director about it. He was not in the building at the time.
Anyway after a while the managing director came into my office unaware of my outburst and asked why the order was sitting on my desk.
I told him that due to people not doing their job this was the third the order had come back wrong.
I cold not believe his reaction. His words and were, and I quote, "They are twits aren't they". No wonder his business was going down the pan with that attitude. I was bemused and thought "Why do I bother?"
He took the order away and said he would have a word with the factory manager.
A little while later he asked me to go to his office. The factory manager was a coward and had told him what I had said to him, also a couple of other people had overheard what I said. The result was that I got a warning for my conduct.
I could not believe it. The people who were causing the problem got away with it.

This was my defining moment. I went back to my office where my then partner also worked. My first words to her were that I was quitting my job to start my own business.
I then had to attend to another customer and when I came back she said she wanted to leave as well. I agreed.
That night we wrote our resignation letters. The next morning I asked to see the managing director when he had a moment. Eventually he called me through. I walked in and handed both our resignations to him.
I left the company 3 weeks later and started my own retail business with my partner. We went from earning good money to nothing.
Now 25+ years later it was the best decision I have ever mad. That is my story, my defining moment in time. Yours probably will be different but maybe the same in many ways.
You may be at that point right now, if not you will at some point in the future. Starting your own business is a big decision and should not be taken lightly but it is a decision you may have to make.
What it means for me is that I am in control. I choose what I do, also I choose who to be associated with. I do not have to work with idiots and people who I don't respect.
So when you do get to that point of quitting your job to start a business I can introduce you to the systems that I use to work from home. Learn more here.
There must be a reason why you are thinking of quitting your job to start a business and feel free to get in touch by clicking here to find out what opportunities are available to you.
To your success.

Pete Harris
Digital Marketer & Home Business Coach
Six Figure Mentors Elite Member