Marketing Automation For Small Business In 5 Easy Steps
Marketing automation for small business can be achieved by following a simple 5 step process. As with anything you do you need a system to follow to get the results that you want and deserve.
Now many small businesses are still following the traditional way of marketing and are unaware of the new technology and methods that many people are using to simplify their marketing efforts.
Even if they are aware they maybe reluctant to change their methods as they do not know how marketing automation for small business can be achieved.
In this post I will allay any fears that you may have by showing you just how easy it is to set up and the resources that you need to put everything in place.
For this type of automation we are going to be looking at technology and resources which leverage the internet. Now before you get panicky over the word internet this process requires just two pieces of software to make it work.
What we will do is construct a system, a machine to do all the hard work for us which, if marketed right, will produce profits at the end.
The following diagram will show you the process and system that we will work to.
Marketing Automation For Small Business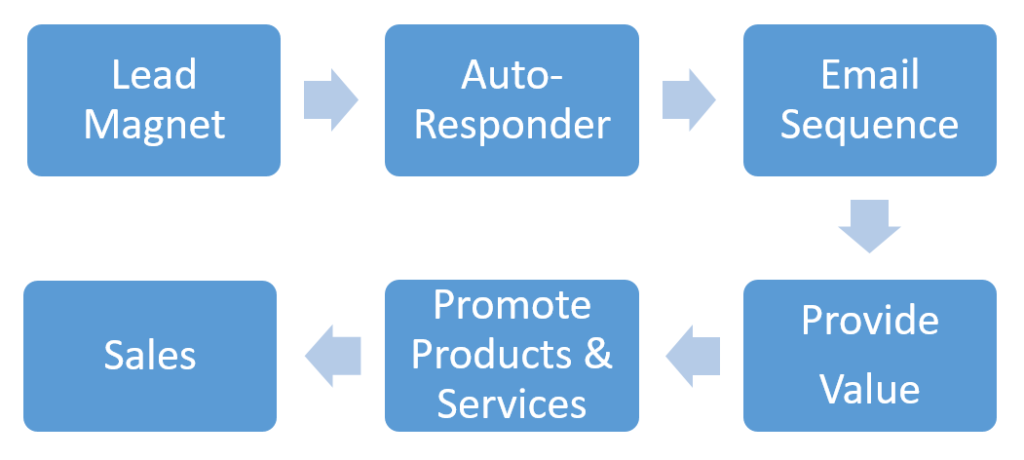 So the first step to this process is to offer something of high value relating to your business. This is usually something that solves a particular problem that your target market are suffering from.
This can be in the form of a free report, audio or video. So it gives the person the initial solution. Use this free offer as a pre-sell to what your main service is.
So how do you create this free information. If it is a free report of say 15-20 pages you can use the word processing application on your computer. Get a nice image for your main cover and then convert it into a PDF.
For video and audio you can use your smartphone or laptop and convert it to the relevant format. Put the content into a folder and zip it up so that people can download it.
What you then need is a lead capture page. This is the first software application you will need. What you do is create a page promoted your offer an on that page you have an opt-in form to collect your leads email address. This is how you build up a database of potential customers.
My recommended resource is Simple Lead Capture. It is a software application where you can build stunning lead capture pages in a matter of minutes. It is a simple point and click editor with no need for you to have any programming skills.
Learn More About Simple Lead Capture By Clicking Here
So now we have our free offer and capture page set up. We now move onto the next piece of software you need in place. It is called an auto-responder.
An auto-responder is what you will use to save your leads email addresses once they have opted in. If you have ever completed a form and entered your own email address then your details would have gone into one of these services.
Auto-responder are much more than places to store email addresses. They are a powerful communication tool that you use to build a relationship with your leads and prospects. The service I use is called Aweber and you can go to their website by clicking here.
You do this by creating what is called a follow up sequence. This is a sequence of emails that goes out to your subscribers with the sole intention at first of providing value. This can be information about you and your company, giving training, sharing tips and resources.This is the relationship building element.
Then while building the relationship you can then start to promote products and services that your company provides or you can promoted other peoples products and services as an affiliate. This part is the selling element to you marketing automation.
What you then need to do is advertise your lead capture page for the system to start to work. If you set your system up correctly, provide the value then the sales will come out at the end.
This is how easy it is to set up marketing automation for small business. This system works and if you would like any more information on the process then please get in touch with me by clicking here.
To your success.

Pete Harris
Digital Marketer & Home Business Coach
Six Figure Mentors Elite Member