5 Tips On How To Grow Your Business
In 2015 it is vital that your business does not stand still and get left behind by the competition so I have come up with 5 tips on how to grow your business.
Here are 5 examples on how to grow your business to safeguard it's future and cope with the ever increasing competition.
# 1 Extra Investment – Investing more in yourself and your business is often what is needed to grow your business and there are a few ways that you can do this.
Reinvesting the profits that you are making. Obviosly if you are making profits there is a demand for your product or service so it makes sense to reinvest a percentage of your profits to enable you to expand. I would suggest a 40-50% injection. There is the old saying that you "Speculate To Accumulate"
Taking out A Loan. A viable option but you have to remember that this will impact your profits because you will be incurring interests. Also it will affect cash flow as you will have a payment to repay. Try and secure the lowest interest rate possible.
Selling Shares. Offer shares to outside investors. You will have to show how the extra money will increase the sales and profits so that the investor will see how much R.O.I they can expect.
Government Backed Grants. Look into government backed help of loans and grants. If you are a a relatively new company there may well be resources available.
# 2 Increase Sales To Existing Customers – You have a valuable daatbase of customers. People who have spent money with you so it could be the best place to start.
If you ar doing things the right way you will have built up a relationship with them and they will know, like and trust you. So look at what they are buying and try to get them to buy more volume by offering incentives such as discounts or look at offering complimentary products and services that increase in monetary value.
By doing this you will then develop what is called a sales funnel. As the customer works their way through the funnel each product costs more and this is a great way of increasing the lifetime customer value.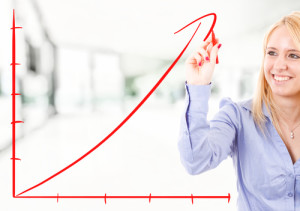 # 3 Attracting New Customers. There are many ways to attract new customers to your business. Having an online presence is vital. Advertising your business has changed and if you are not online then you are seriously missing out.
in the old days everbody used to look in "Yellow Pages". You may have noticed that the size of these publications have decreased dramatically. That is because most people "Google It". The power of the internet puts your business in the face of potentially billions of people.
So you need a website which is virtual real estate. Fill it with relevant content and your products, link it to social media profiles like Facebook, Twiiter & Pinterest etc. You will then build up a following or audience of people who you can market to.
Offer massive amounts of value in the form of updates, tips, company info and don't make the mistake of just SELL/SELL/SELL.all of the time.
You can set up what are called lead capture pages. You offer an incentive of a free report or video information series about your company.
To receive the information people enter their email address which then goes onto a database. They now become a lead which you can nurture into becoming a customer.
Some older methods such as direct mail still work. You can buy lists of people information who have shown an interest in you particular product line or niche. When you have these lists you can then market to them. This can be expensive but if you have a great converting offer it can work well.
# 4 Develop New Products & Services. Fairly self explanatory and works in relation to Tip # 2. Develop products and services that compliment your existing product line.
Do some market research and ask your existing customer what else they need. This information will be useful as you won't be shooting in the dark.
You can be sure that if your customers need it then potential new customers will as well. This also reduces the expense of creating new products because you will know exactly what to produce.
Also you could look at your competitors. Are they doing something different or could you improve on what they are offering.
# 5 Get A Mentor. Get advice, training, mentoring from someone who is already successful in their field. This will dramatically reduce your learning curve and reduce the amount of mistakes that you could make.
By tapping into their success and help your business grow massively. Yes it will cost you money to learn what they know and sometimes it will be expensive but you have to look at the bigger picture.
If you try and do it on your own then it will take longer to grow and you could potentially spend more money because you will have to do the testing until you find the winning formula.
So I hope that my tips on how to grow your business helps and if I can be of any other help then please CONTACT ME HERE.
As always I wish you well.

Pete Harris 
Digital Marketer & Home Business Consultant
Six Figure Mentors Elite Member