Find Out How You Can Run Your Entire Online Business Through The Digital Business Lounge
So the Digital Business Lounge is a point and click internet marketing platform that you can use to run your entire online business from.
When you are looking to start an online business there are many elements that you need to have in place to ensure that your online business runs smoothly.
Therefore it is very easy to overlook things which turn out to be the missing piece of the jigsaw. With the Digital Business lounge nothing is left out.
So with the Digital Business Lounge you can launch and host WordPress sites and you can track and optimize campaigns.
Also you can create lead capture pages and set up unlimited domains and email accounts. On top of every thing you will have access to video tutorials to help you on your way.
The Digital Business Lounge is the easiest way to get your online business up an running and showcase all your products and services.
So Let's Go Inside The Digital Business Lounge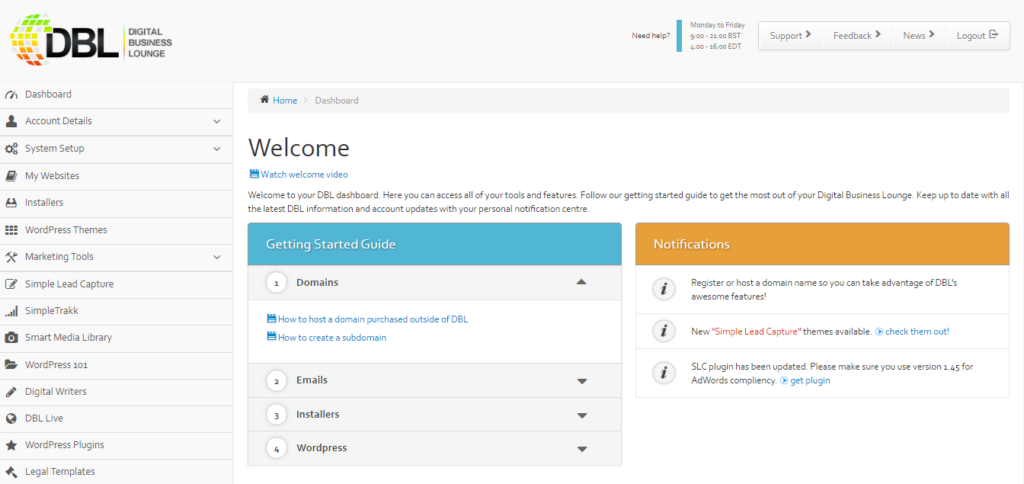 Above is a screenshot of my Digital Business Lounge members area. Lets's start from the top.
System Setup – Within here you can purchase domains, host them through the Digital Business Lounge and assign email accounts to each domain.
My Websites – Here you will have all your websites listed and be able to navigate to where you need to make any changes.
Installers – Here you have two options. You can either install a blank WordPress theme which you can change later to match the look and feel of your company and brand.
The other option is to install the Six Figure Mentors authority site. This is a one click installation and you will have your own authority site full of banners and links to your Six Figure Mentors business. All you need to do is add content.
WordPress Themes – At the time of writing this post there are currently 22 WordPress themes to choose from. All are professional themes so you will have no trouble picking one you like.
Marketing Tools – Within this tab you have three marketing tools and they are as follows –
TidyUrl – This is a link shortener to clean up your affiliate links.
Your Tube Player – Take any YouTube video you have and customize the look and feel with this super simple application.
Graphix Creator – This is a premium application which is a stand alone product costing $99 per year. You get this within you Digital Business Lounge Membership. With this tool you can create stunning 3D professional graphics.
Simple Lead Capture – Another stand alone product costing $29.95 per month and again this is included in your account. Here you can create stunning lead capture pages, thank you pages and customized funnels.
Simple Trakk – Another stand alone product costing $9.95 per month which is included in your membership. With this piece of web based software you can set up your marketing campaigns to test which are the best performing.
You can set up split tests, funnel tracking and get all the information in real time.
Smart Media Library – This is a great tool as you can upload all sorts of media such as images and PDF's. All are hosted through the Digital Business Lounge.
WordPress 101 – There are 21 video tutorials covering every aspect of WordPress. By the time you have gone through all the training you should be a WordPress master.
Digital Writers – If you struggle to write quality content then Digital Writers is the perfect solution. There is a team of professional writers on hand to help. This is an extra cost service and there are 3 levels of quality you can choose from.
DBL Live – At the time of writing this post this is a new service which is coming soon. Basically it will be live training sessions where the Digital Business Lounge experts go through training to help you overcome any technical issues.
WordPress Plugins – Here you can download WordPress plugins and install them on your website. There are currently four plugins as follows –
TidyUrl – URL shortener on your own domain.
My Lead Bar – Traffic converting lead bar.
Simple Lead Capture – Link your lead pages to your site.
Your Tube Player – Customize you YouTube videos.
Legal Templates – In this age of compliance you have to be seen as professional. So here you can enter your company information and create legal templates that comply with your industry.
The Digital Business Lounge is the perfect solution for any online business. You can now open your own Digital Business Lounge account for a trial of just $1. Please click the image below.
So what are you waiting for? Start your $1 trial of the
Digital Business Lounge
and get you online business up and running.
To your success.

Pete Harris
Digital Marketer & Home Business Coach
Six Figure Mentors Elite Member