Here Are Some Top Tips To Help You Create A Lead Capture Page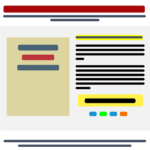 If you have an free report or lead magnet, then what you need to do is create a lead capture page to promote it so that people can opt-in to receive what you are offering. It is a very simple concept but very powerful and you can find that you will build a list of subscribers very quickly.
The thing is this only works if you get the ingredients right when you create a lead capture page. The words that you use can be the make or break of your capture page so it is critical that you script and format is correct so that your visitors will feel that they have to have what ever you are offering there and then.
So how do you go about writing the body of your text in a way that motivates and gets the juices of your reader flowing so that they enter their name and email address. I have put together some fantastic writing tips to help you make your lead capture page convert as high as possible.
My Top Tips To Help You Create A Lead Capture Page
Key Elements
Headline
Sub Headline
Eye Grabbing Image
Bullet Points Of The Benefits Of The Offer
Opt In Form
Match The Call To Action To The Headline
Make Sure That You Call To Action Perfectly Reflects The Headline Of You Page To Avoid Confusion
Keep It Simple
Keep Your Landing Page Simple
Don't Have Too Much Going On
People Like Lots Of White Space As It keeps Them Focused On The Offer
Encourage People To Share on Social Media
Install Social Media Sharing Buttons On Your Capture Page
Create Multiple Versions
Create Multiple Versions Of Your Landing Pages
Change Headlines
Change Sub Headline
Use Different Images
Split Test To See What Ones Are Performing The Best
Limit The Information People Need To Enter
Don't Ask For Too Much Personal Information
Only Ask For Name & Email
People Are Reluctant To Share Things Like Phone Numbers & Address
Add Social Proof
If Possible Add Testimonials Or Social Proof That Your Offer Works.
People Are Sceptical & Like To Be Reassured
Add Scarcity
Put A Time Limit To the Offer Or Limited Copies Available
This Will Encourage People To Opt In.
All of these elements if used correctly will enable you to create a lead capture page that is highly engaging and highly converting and you can find out more about the simple lead capture software I use by Clicking Here.
So I hope that I have helped you for when you create a lead capture page and I hope that they get you lots of leads and subscribers for your business.
To your success.

Pete Harris
Digital Marketer & Home Business Coach
Six Figure Mentors Elite Member