Get The #1 Bestseller Copy This Idea For FREE!
How would you like to get the #1 bestseller Copy This Idea for FREE?
Copy This Idea is written by the multi-millionaire entrepreneur Andrew Reynolds and in it he reveals the simple system that he developed in the mid-late 1990's from his spare bedroom which enabled him to escape the 9-5 corporate life.
Since the systems inception it has gone onto generate over £50 million which I am sure you would agree is an impressive figure.
So How Can You Get Copy This Idea for FREE?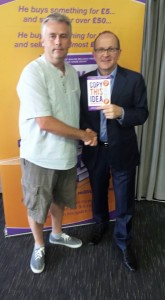 As I have said the book is a W H Smith #1 bestseller and it usually retails for £9.95 but Andrew Reynolds is now offering you the opportunity to copy his system for FREE.
I had the pleasure to meet Andrew Reynolds at his Entreprenuers Bootcamp in Brighton UK in July 2015. Andrew Reynolds has a passion  for helping people find the entrepreneur within themselves.
He was once in the corporate world, trading time for money but he always knew that there was something better out there.
He attended a seminar in the USA and by doing this his eyes were opened to a different way to make a a very lucrative income. He came back to the UK and set up his incredibly simple system and as they say "the rest is history".
So now you have the opportunity to learn his system. As far as I am concerned this is a no brainer. A hugely successful business man offering to show you how to set up the same business model for NOTHING!
What are you waiting for?
Simply click on the image below to claim your FREE copy of Copy This Idea.
So hopefully you grab your copy of Copy This Idea while they are still available for FREE. It could potentially be the best investment that you have ever made.
As always I wish you well.

Pete Harris
Digital Marketer & Home Business Consultant
Six Figure Mentors Elite Member